State-owned BSNL, which once aspired to become a Navratna company, today has money just enough to survive for another year.
An integrated telecom service provider, which got off to a flying start in 2000, began running into problems since 2007 due to delays in placing orders for equipment. The PSU, which had a Rs 30,000-crore cash surplus a year ago, has already depleted these reserves by 83% to Rs 5,000 crore owing to stagnant revenue and rising expenditure. The cash surplus had enabled the company to survive without any government bailout and pay Rs 18,500 crore last year for the 3G and broadband wireless spectrum.
BSNL is expected to post losses of around Rs 4,000 crore at the end of fiscal 2010-11. On the revenue side, its income is estimated to fall by 12.5% to Rs 28,000 crore. When contacted, BSNL CMD Gopal Das declined to comment. After meeting its monthly expenditure, it has a deficit of around Rs 300-Rs 400 crore each month for which it dips into cash reserves. It is only going to get worse. Officials said for the fiscal 2011-12 its losses are expected to go up to Rs 10,000 crore with revenues remaining almost stagnant. BSNL for the first time since its inception posted a net loss of Rs 1,822 crore during 2009-10. In the current fiscal, it had to dip into its cash reserves to pay Rs 18,500 crore for the 3G and the broadband wireless spectrum.
Procurement and the revised wage bill also made it dip into reserves. Depleting cash reserves also mean that its revenue from other income has also gone down by 80%.While income from operations has remained more or less constant at around Rs 27,000 crore, the income from cash reserves has also gone down recently to Rs 800 crore from Rs 4,000 crore last year. "The company is in a critical condition. As and when its cash reserves run dry the government would have to provide a bailout package by injecting at least Rs 600 crore on a monthly basis to keep it afloat," an official said.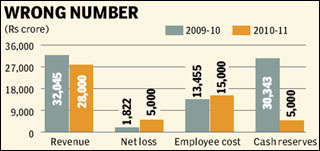 BSNL has been losing market share and its share stands at less than 10%. It also has a huge salary bill which eats into 42% of its revenue. Every year, the salary bill rises by close to 10% and this year it is expected to pay Rs 15,000 crore as wages. On the other hand, the private operators pay just about 5-6% of their revenue as salary. Not that the government did not come up with a rescue plan. Last year, the PM appointed a committee headed by Sam Pitroda to come up with a turnaround plan for the company. However, the recommendations were blocked by former telecom minister A Raja. Telecom minister Kapil Sibal, however, has identified turning around the company as part of his policy